Olympic gold medalists Leonie Maier and Dzsenifer Marozsan made their appearance in the 2016 FIFPRO Women's World 11, which featured players from six countries.
"It is crazy, beautiful and an enormous compliment. It makes me feel proud," Marozsan said after receiving the award. "But without my team, this would have all been impossible. Therefore a well-deserved thank you to my team."
Marozsan won Olympic gold in Rio de Janeiro with the national team of Germany, just like Leonie Maier. She plays for Olympique Lyon as well, the most decorated women's team in the last decade and winner of the 2016 Champions League.
Four other players from Olympique were elected for the 2016 World 11: Ada Hegerberg, Alex Morgan, Eugenie Le Sommer and Wendie Renard. The last three received their second World 11 trophy, just like USA's Carli Lloyd. "I'm just honoured to be a part of that group and have my name among those other fantastic players who I also look to as peers, as colleagues and role models for our sport," said Ali Krieger from the Orlando Pride and the USA.
"These awards would have been unthinkable in the past, but women's football is progressing worldwide and it's not often you get an award as a defender," Wendie Renard told FIFPRO.
In the video below more reactions from several World 11 players.
"It is a great honour for me," said Ada Hegerberg. "Being on a team among such great players is a huge motivation to improve as a player. It is an inspiration. I want to improve everything. I have huge ambitions for the future."
"I am very happy and honoured that the girls have been voting for me," Nilla Fischer said. "It is a big thing when the players are voting instead of a jury. It means a lot to me."
"(The World 11) is a big thing, because we want to achieve the same thing as male football players. It is a big thing to achieve something we did not have before. It is a step in the right direction. I think we deserve the same respect as men."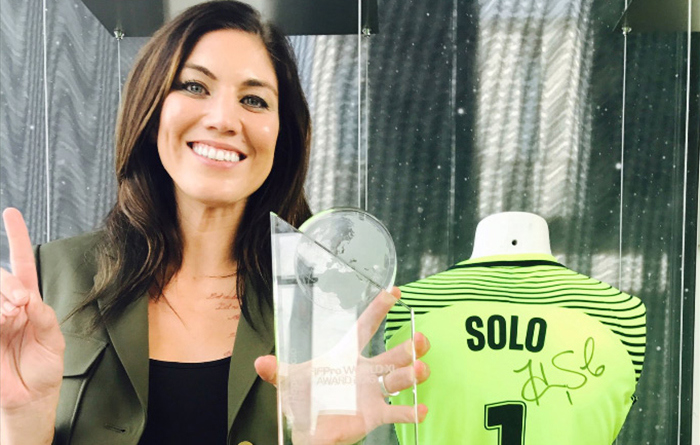 Hope Solo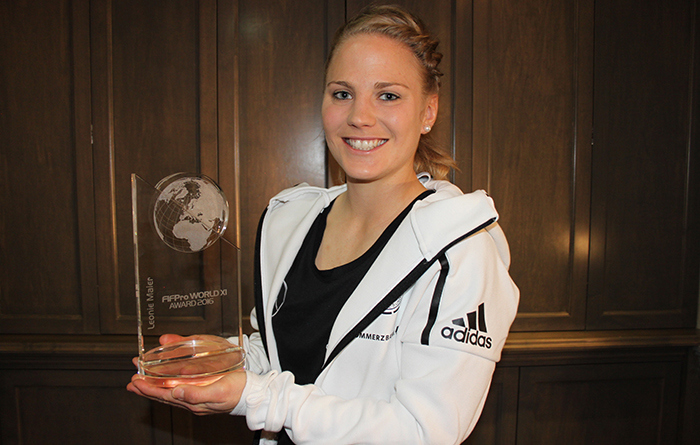 Leonie Maier
Nilla Fischer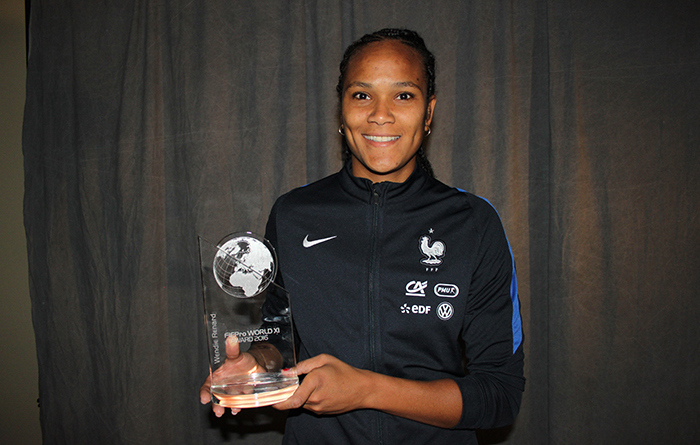 Wendie Renard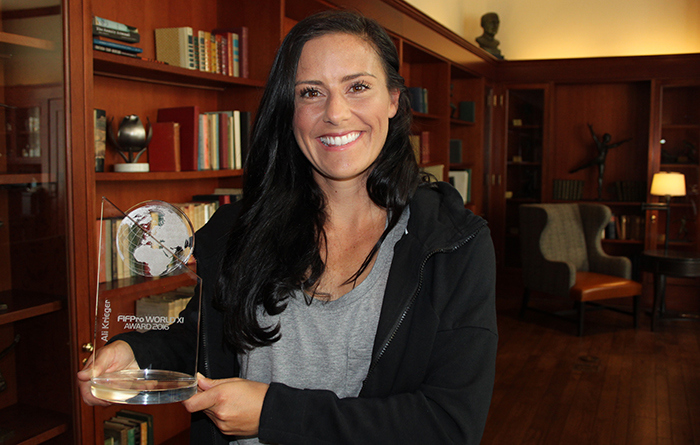 Ali Krieger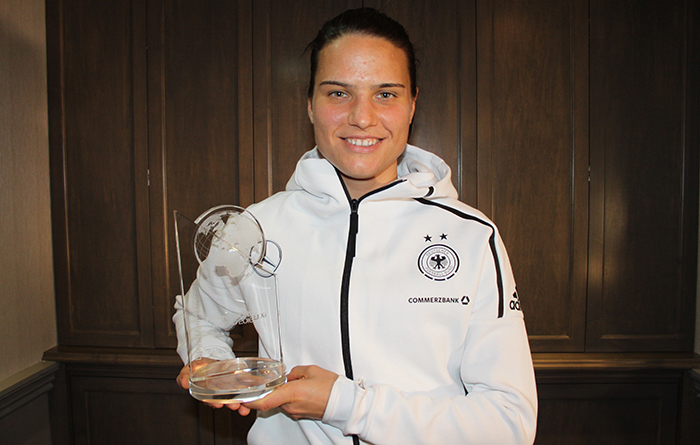 Dzsenifer Marozsan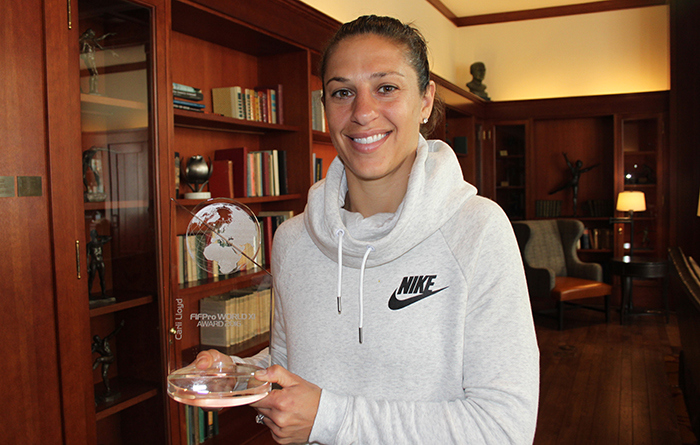 Carli Lloyd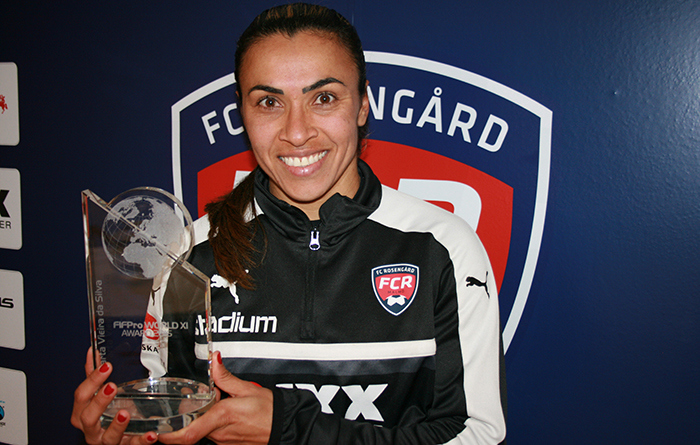 Marta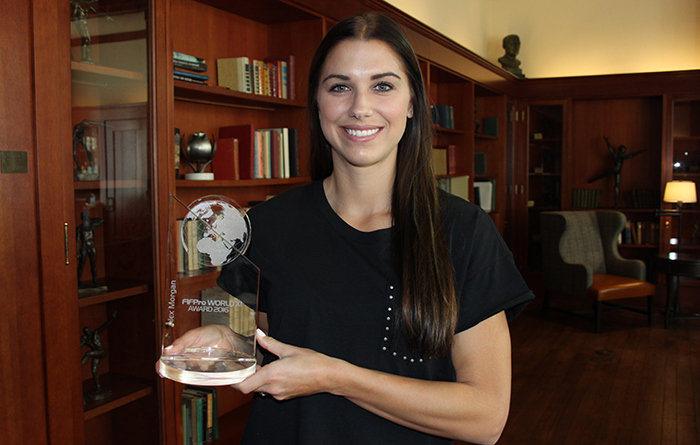 Alex Morgan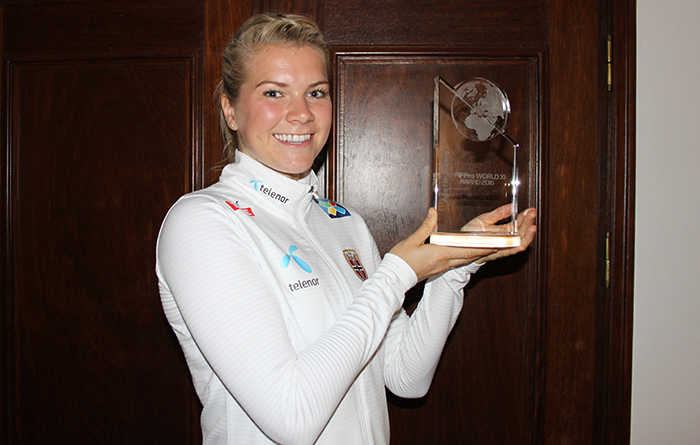 Ada Hegerberg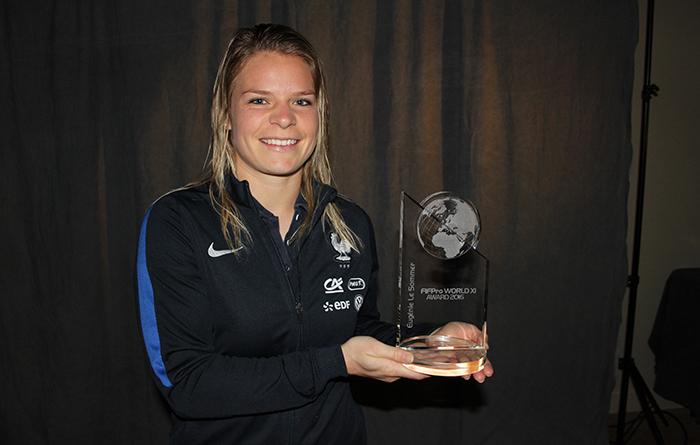 Eugenie Le Sommer
Hope Solo at FIFPRO
FIFPRO invited Hope Solo to attend the first women's football conference in August 2017. It was also an opportunity to present her the 2016 World 11 award. On stage, in front of a crowd of union representatives and national football players from more than 30 countries, Solo was handed over her trophy by Caroline Jonsson, who is not only a FIFPRO board member, but also a former goalkeeper of Sweden.
List of 55
The USA is the country with most players on the list: 9. France (8) and Germany (6) are next. All German players won the gold medal at the 2016 Olympics: Maier, Marozsan, Tabea Kemme, Melanie Behringer, Alexandra Popp and Anja Mittag.
The list of 55 is dominated by players from Olympique Lyon, as eleven of them are currently under contract for the French holder of the women's Champions League cup. Paris Saint-Germain (7) and VfL Wolfsburg (7) are second and third.