A team of eleven female players from nine different countries, that is what we can truly call the 2017 FIFPRO World 11.
Five new players made their appearance in this third edition of the Women's World 11: Hedvig Lindahl, Lucy Bronze, Camille Abily, Lieke Martens and Pernille Harder.
It was no coincidence that all these players are European, as they were some of the stand-out players of the EURO 2017 which was hosted and won by The Netherlands.
Talking about winning, four players from Olympique Lyon were included in the 2017 World 11 after a season in which they, among others, won the French title and the Champions League once again: Abily, Bronze, Dzsenifer Marozsan and Wendie Renard. The last one is the only player to appear in all three World 11s.
More than 4,100 female players acting at the highest level in 45 countries worldwide voted.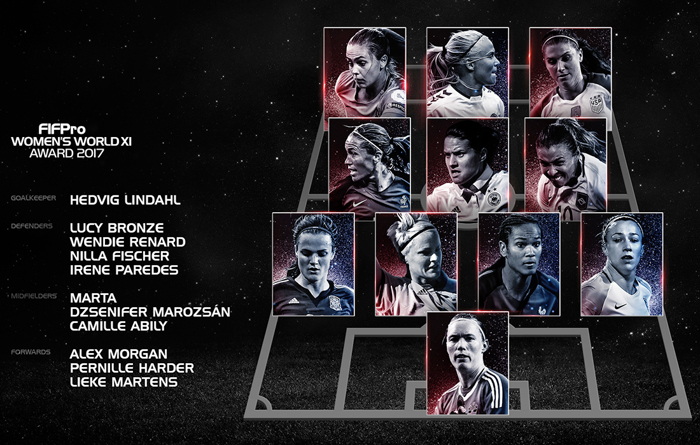 "One of my biggest goals is to be the world's best keeper. It's been my dream, and to be a part of the FIFPRO World 11, at least once, is something tangible to show to my kids," Hedvig Lindahl told FIFPRO. "For me it means the world, actually. I'm thinking about all the tears on this journey, the ups and downs, and all the people involved. People who looked at me when I was young and I told them my dream, and they're like, "yeah, okay, good luck with that." Now, there's something to show. There are so many great goalkeepers out there, it's humbling to think that my peers voted for me."
"This shows I can still play at the top level," Marta told FIFPRO. "I'm very happy. It's also motivation for me to keep pushing myself. Women's football is becoming more competitive so it's harder to stay at the top. You have to have a lot of perseverance to stay consistent. I have that in my character – fighting spirit. Growing up in a small town of 12,000 people in the north of Brazil, I had to face up to prejudice and discrimination because I was the only girl in a team of boys. I had to work harder to prove myself."
"This is a cool recognition, a really great achievement," Pernille Harder said. "2017 was the best year of my career so far. All the hard work I put in is paying off."
"I am a little surprised that I received most votes of all players," Lieke Martens told FIFPRO. "I like it, but I know that there are so many very good players like Pernille Harder, Eugenie Le Sommer and many others. Last year was very special. We achieved something beautiful with the Dutch national team. It says a lot that six Dutch players made the list of 55 most voted players."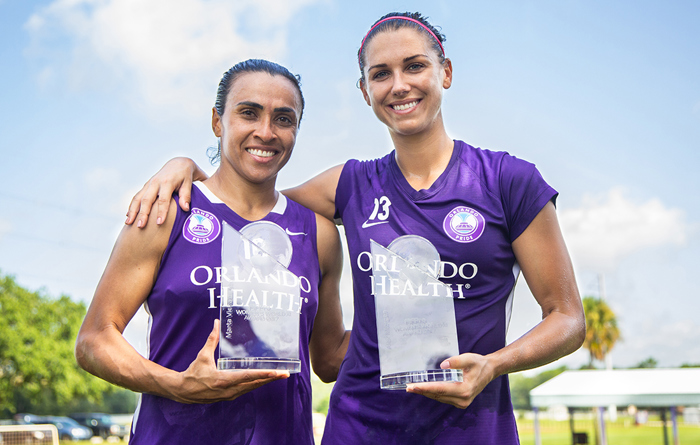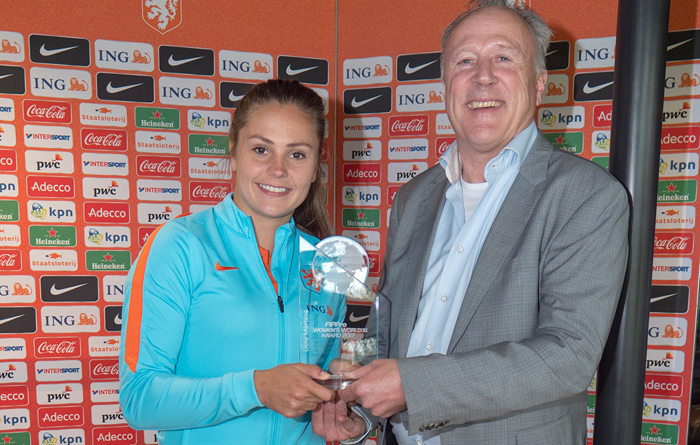 List of 55
Most players on the List of 55 are Dutch – six in total: Lieke Martens, Anouk Dekker, Daniëlle van de Donk, Jackie Groenen, Vivianne Miedema and Shanice van de Sanden.
Four countries have five players on the list: England, France, Germany and Spain.
Olympique Lyonnais is the club with most players: eleven. VfL Wolfsburg is second with six, followed by Barcelona and Paris Saint-Germain with four each.
The list included one college player: Deyna Castellanos, the 18-year old Venezuelan forward from Florida State University in the United States.