We frequently receive enquiries from footballers who have been approached by persons saying they will help them find a club or a trial. From experience we've learned that some of these persons are trying to scam players.

In this blog, we are making public information about some of the fraudsters.
We advise footballers not to engage with the persons mentioned in this blog or at least be extremely vigilant when dealing with them.
You can also help your colleagues: if you have had a bad experience, please let us know: info@fifpro.org. 
---
15 January 2021
Frankfoot and Francis Mofor
We received complaints about Frankfoot Sports. A person calling himself Francis Mofor claims to be a FIFA licensed agent and even shows a link on his website to a FIFA database for registered match agents.
Frankfoot pretends to offer trials. Players and coaches contacting the person calling himself Francis Mofor are told they can attend trails at clubs such as Manchester United, Cardiff City, Middlesbrough and Barton Rovers.
One player was told that he could attend any of these trials if he paid GBP 680 to a person called Drek Denis based in Ukraine. One coach was told to pay GBP 580 to join Barton Rovers.
One of our player unions informed us that the Frankfoot website was created by a person in Nigeria.
FIFA does not distribute any licenses for player agents or intermediaries. When someone says he is a FIFA licensed agent, this is not correct.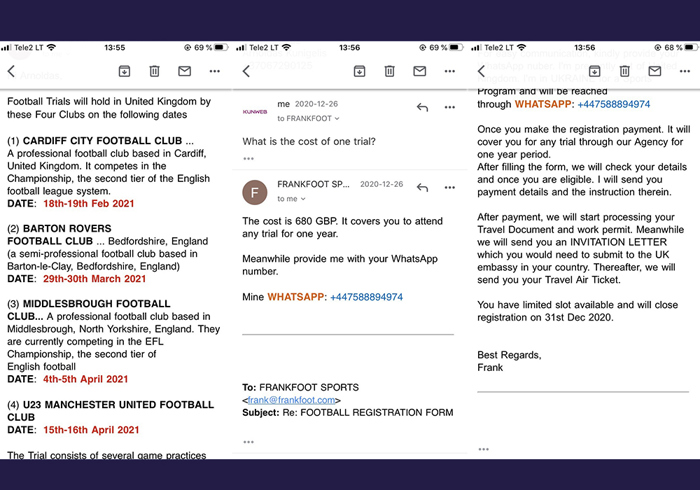 ---
12 January 2021
Martin Blatny (Martin Kois)
We received information that Martin Kois is still operating. This time he uses the name Martin Blatny. The Slovakian scammer is approaching young players in Norway, offering them trials abroad, for example in Portugal.
For years, Martin Kois has cheated numerous players by promising them to arrange a trial with professional clubs such as Parma or Belenenses. He asks the player (or his parents) to make a "deposit" of around 1,000 euro, which will be repaid to the player when he has arrived on his trial. But after Martin Kois gets paid, he always has a reason why the trial is canceled and the players don't get their money back.
Martin Kois has also used the following last names: Kocis and Kovalsky.
His Instagram account is martin___019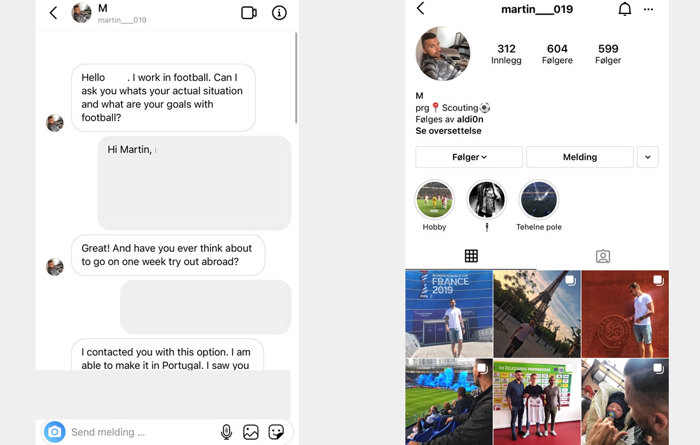 ---
28 October 2020
Martin Kovalsky (Martin Kois and Martin Kocis)
Scout arranging bogus trials
Once again, we received information about Martin Kois, who says he is a scout and is now approaching players while using the name Martin Kovalsky.
Last week, he cheated an English player, who thought he was going on trial at a Portuguese club. The player paid approximately 1,200 USD, expecting that he would be reimbursed upon arrival in Portugal.
Previously Martin Kois also used the name Martin Kocis.
Be vigilant when you are approached by an agent using the name Martin, regardless of the surname.
And: never pay an agent before signing a contract with a club. ---
21 October 2020
Kittisak Chiraphasuksakun
Fake contract with Thai club
Czech player union CAFH informed us about a scam involving an individual calling himself Kittisak Chiraphasuksakun, consultant at BG Pathum United FC from Bangkok, Thailand, using the following phone number: +66990435856
This individual offered a one-year contract to a Czech player and said the club would send flight tickets as soon as the player paid 460 USD for "Player Legal Security and Endorsement Fees" via MoneyGram. The player was suspicious of this fee and asked his union for support.
The Czech union consulted FIFPRO's legal department, which immediately noticed the contract was fake. FIFPRO contacted the Thai player association and the country's football association, which confirmed the contract offer was a scam and that the real Kittisak Chiraphasuksakun was unaware of any such offer.
Even though the Czech player thought the offer was lucrative, he followed the advice of his player union and FIFPRO. He did not pay the "fee" and broke off all contact with this person.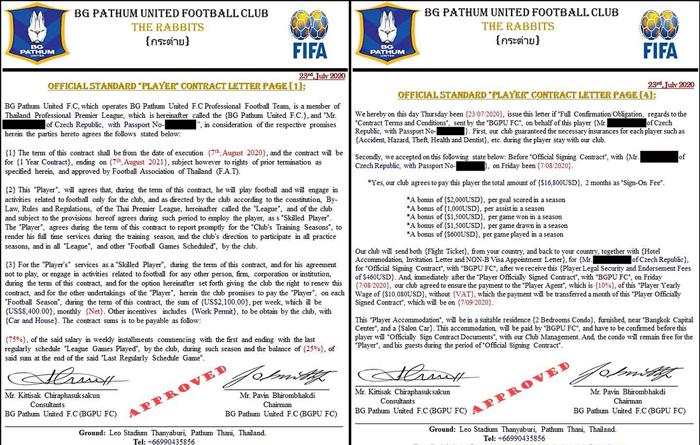 ---
6 October 2020
Alec Faustino and Nicholas Sizer
Fake contracts with Turkish clubs
Two teenage players from England informed us that an individual calling himself Alec Faustino arranged a three-year contract for them with Turkish top league club Caykur Rizespor. He said, the only thing the players had to do was pay the "accountant of the club" through a money transfer company. Each of them sent 1,000 euro for accommodation, visa, flight tickets and a medical. However, the two players are still in England because the contracts were fake.
Another teenage English player informed us that a person called Nicholas Sizer said he arranged a trial and a three-year contract with the same Turkish club, Caykur Rizespor. The player paid over 2,000 euro for various costs. He received the same fake contract as the two teenage players.
The three players never met Alec Faustino or Nicholas Sizer, they only had contact via social media or e-mail. Both fake agents claim to be working for an agency called Europe Sport Management: https://europesportmanagements.com/
Earlier this year, Dutch player union VVCS issued a warning after a person called Alec Faustino had approached various Dutch players.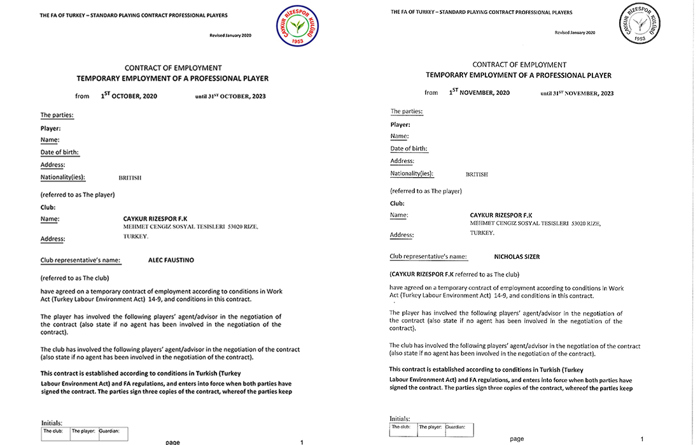 ---
6 October 2020
Martin Kois (also goes by Martin Kocis)
Fake trials in Italy, Portugal …
A player in Lithuania was approached by a person calling himself Martin Kocis and offering him a trial in Lisbon, Portugal. Kocis didn't mention any club name. The player received a contract for the trial and was asked to pay 1,000 euro. Kocis said that the club would reimburse the player at the trial.
The player refused the offer after checking FIFPRO information.
In 2019, we issued a warning about Martin Kois and informed Slovakian football and police authorities after he cheated players with bogus trial offers at Italian club Parma: https://twitter.com/FIFPro/status/1154687648197488640.
Kois (Kocis) uses this Instagram account: Martin___gt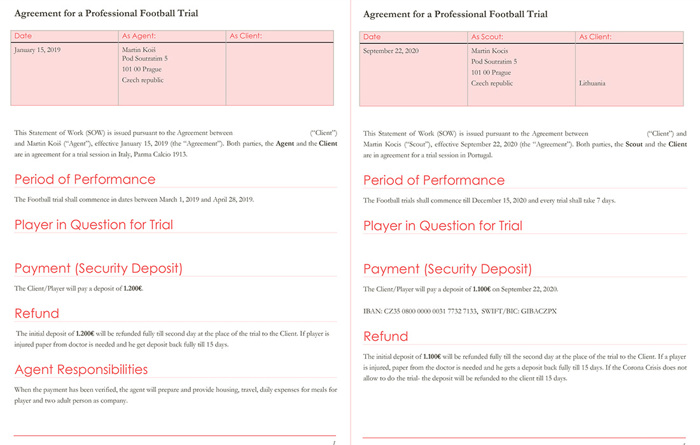 ---
If you have any doubts about an offer for a trial, a contract or would like support, contact your local player union or FIFPRO.