As a mother of two, Watford striker Helen Ward has applauded recent developments for maternity regulations in football but has also expressed hope that this is merely a starting point.
From 1 January 2021, rules agreed upon by FIFPRO, FIFA and other stakeholders came into effect, stipulating minimum conditions including paid maternity leave, prevention of unfair dismissal, and general rights of expectant mothers.
Wales' all-time top scorer talked to FIFPRO about her own experiences of balancing motherhood and a professional career, and how maternity is a different ball game in the world of football.
"The number of players that are taking the decision to be both a mother and a player is gradually increasing, which is really fantastic. It proves that we can be athletes as well as mums, but we're not just here to have babies. Mothers should have the opportunity to have their own lives and goals – whether that's through football or any other sport or career they may choose."
"It's so important for young girls to realise that just because you have a family doesn't mean that your life has to stop. Of course, my kids are everything to me and they are my number one priority, but they also understand that mummy plays football, and I hope they grow up to be quite proud of that and of me."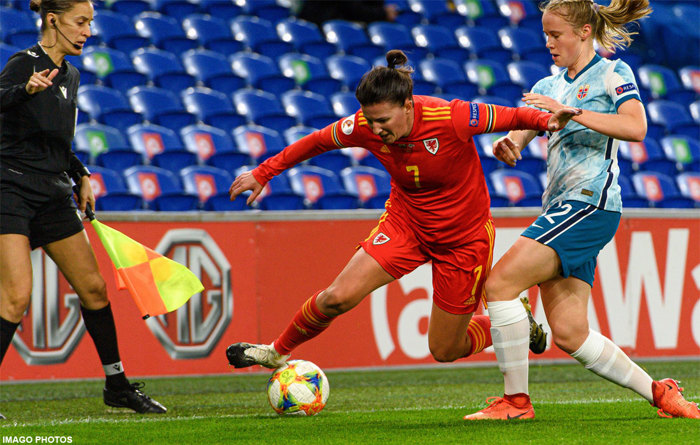 "I always thought that once I had children that would be the end of my career as a footballer, but when I fell pregnant with my daughter over 7 years ago, I simply wasn't ready to give the game up. There were starting to be more instances of female players who were doing both – such as England international Katie Chapman - and they were true role models of how you could have children and return to the highest level. Players like this were massively inspirational to me when I was younger, so much so that when the time came - I knew I wanted to follow in their footsteps."
"Being a mother has actually enhanced my career and generally myself as a person; before I had children I could sulk about a result for up to five days after a match, whereas now I just don't get the time to wallow. I come home and my kids ask me for a cuddle or a treat and suddenly a bad result isn't the end of the world. It's not to say that I don't care as much, of course I do and I'm still a very bad loser, but I've gained a much-needed sense of perspective. This new ability to compartmentalize my life into separate "football" and "family" boxes has really been working for me in my career."
"Women deserve the support to be both mothers and players"
"I take pride in myself as a pioneer on the topic of maternity in football, because I was still a bit of an anomaly when I first became a mother seven years ago, and although its slightly more common now – FIFPRO's own research in 2017 found that only 1% of all players are mothers."
"The statutory conditions for maternity which came into effect earlier this year are a huge development – as there was nothing in place before then. It's hard to say how they would have maybe helped me had they existed when I had my own children – I was semi-pro at the time and made the decision to cancel my own contract so as to alleviate financial pressure on my club. However, things are different now; there are so many more professional clubs and players that can utilise these conditions. I really hope that this progress helps women from this point forward to realise that they shouldn't have to make sacrifices and that they deserve the support to be both mothers and players."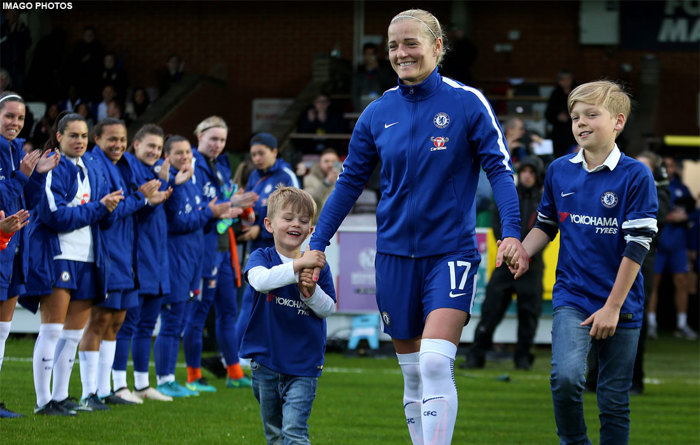 "However, it did strike me that the minimum period of maternity leave is quite short with regards to the life of a footballer. If you consider that in a normal job you can almost work right up to the day that you go into labour and then take your leave from then on, but as a footballer you have to stop playing from around three months into your pregnancy. Of course, there are ways in which you can continue training, but your job is to play games and you're not able to do that - so your 14 weeks can disappear pretty quickly."
"So, then what happens? What if eight weeks after giving birth, your emotions and physical state are still recovering from the major trauma of childbirth? For some that's simply not enough time to settle into their new role of being a mother."
"The fact that there's something in place now to protect women and their rights is a hugely important first step, we just need to keep in mind that there are many more steps to be taken on this journey. "
Reaction FIFPRO
We want to thank Helen for her constructive comments. For us, these maternity regulations are a great first step, as they represent the first-ever minimum set of protections. As they are just the first step, we will continue to monitor and evaluate their implementation and look to push where necessary for more favourable conditions for players, including longer maternity periods as Helen has suggested.
We invite all players to reach out to us or their player union if they have any feedback. Your information could be a huge guide to us when defining future improvements.
For more information, please read our Parental Policy Guide.
---
For a more in-depth understanding of the pathway to the creation of the maternity regulations and its implications by FIFPRO's Senior Legal Counsel Alexandra Gómez Bruinewoud please click below.