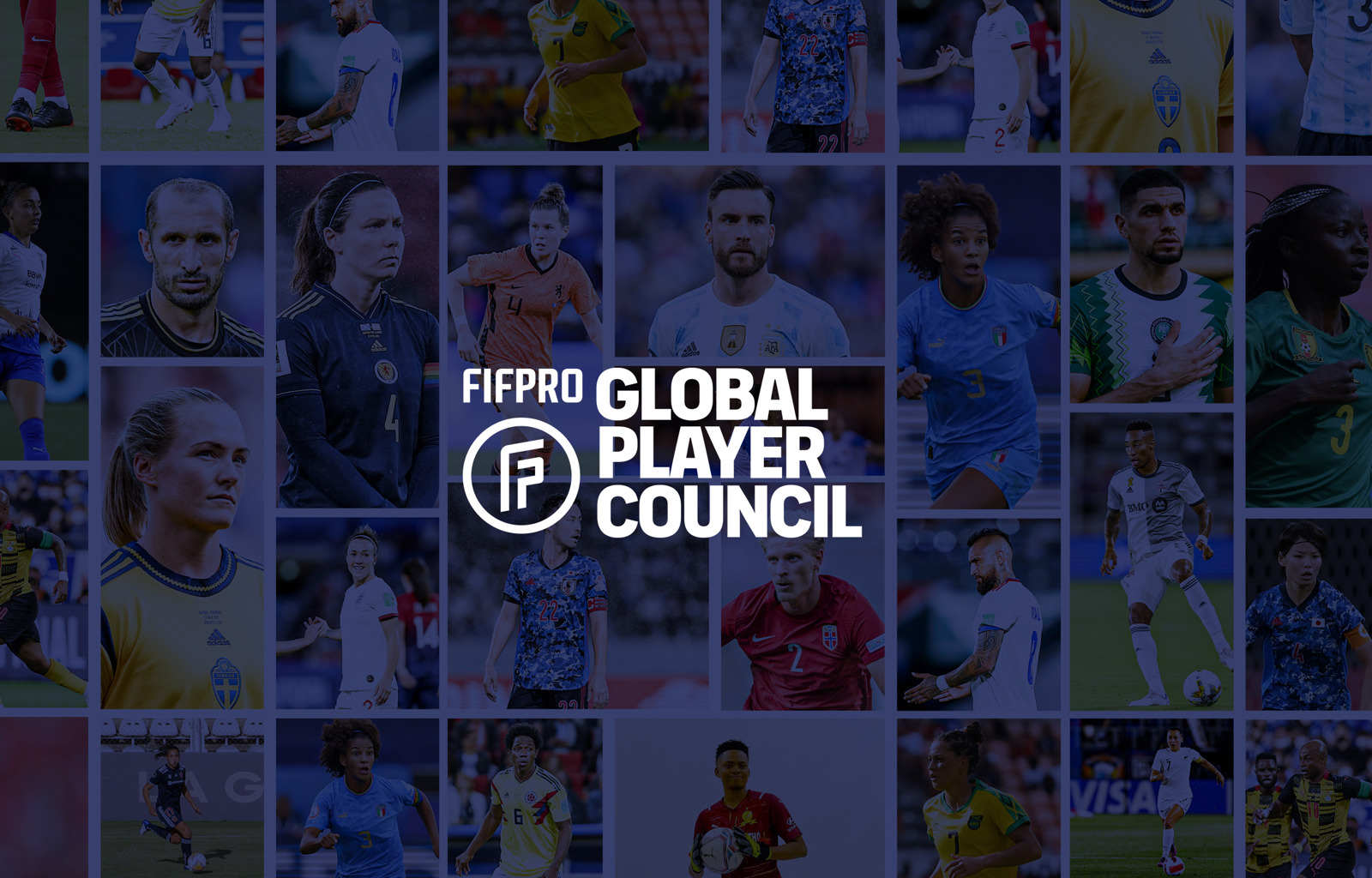 {0} min. reading time
It has been one year since FIFPRO's Global Player Council (GPC) relaunched


The voice of the players, the GPC is a platform for active footballers with international experience


Over the last 12 months, the council's 35 members have driven change that has shaped football for the better
FIFPRO's Global Player Council (GPC) is a platform for active players with international experience that strengthens the role of professional footballers in shaping their industry.
The council assists FIFPRO and its 66 affiliated national player associations to represent men's and women's players in negotiations about cross-border issues that directly affect them, including the international match calendar, employment standards, the use of personal data, social media abuse, and more.
Thirty-five players currently sit on the council, including Lucy Bronze, Giorgio Chiellini, Saki Kumagai, Andre Onana, Nicolas Tagliafico, and Arturo Vidal to name but a few. 
Since the GPC relaunched last year, men's and women's players on the council have used their collective voice to bring about significant change in the football industry.
A letter to FIFA that secured historic changes for women's players
In October 2022, FIFPRO, its member unions and over 150 players from 25 national teams – in what was the largest piece of collective action ever undertaken by women's football players – sent a letter to FIFA President Gianni Infantino calling for:
 An equal framework of rules and conditions for the men's and Women's World Cups, including equal prize money for senior World Cups.


 A global guarantee of at least 30 percent of prize money for players who compete in the Women's World Cup.


A binding, global collective agreement between FIFA and the players that enshrines these commitments.
The player-led pressure put on FIFA resulted in football's world governing body implementing conditions and service levels at Australia/New Zealand 2023 that were equal to the men's World Cup in Qatar, as well as a sum of USD 110m to be distributed to players on the basis of team performance at the tournament.
The involvement of Global Player Council members was crucial throughout the whole process, especially in providing FIFPRO feedback and getting other team-mates on board.
"In every single country in the world, there's still something missing or something that could be done a lot better," said Lucy Bronze in March 2023. "The fact we've got that collective goal means that together we feel that common goal – and everybody knows that strength comes in numbers. When we inspire each other, the voice becomes louder."
How Marshall Munetsi's voice helped FIFA overturn Zimbabwe suspension
Global Player Council member Marshall Munetsi used his platform to highlight how FIFA's suspension of Zimbabwe was having a negative effect on the country – and the Reims midfielder engaged in constructive dialogue that helped his country become reinstated.
FIFA's decision to suspend Zimbabwe in February 2022 due to governmental interference meant the men's, women's and youth national teams were unable to take part in qualifiers and that the country's clubs were unable to compete in continental competitions.
As one of his country's leading players, Munetsi used his voice to consistently highlight the issue. Munetsi and members of Zimbabwe's player union met with representatives from FIFA at FIFPRO House in Amsterdam, Netherlands in March 2023 to discuss the issue. Four months later, FIFA overturned Zimbabwe's ban.
"It is important for us players to speak up about issues like this – and the situation in Zimbabwe is one of the reasons I joined FIFPRO's Global Player Council," said Munetsi, speaking in March 2023. "It helps highlight how instances such as this are putting the younger generation, particularly in Africa, at a disadvantage.
"As players, we have a voice. And through a union, we can use that collective voice to push for positive change. I will keep on using my voice to help the next generation in Africa and beyond."
#ShineALight: Issues that matter to players
Before Qatar 2022, three World Cup-bound players from the Global Player Council took part in FIFPRO's #ShineALight series to discusses their personal experiences with a view to bringing attention to important social and industrial issues.
Uruguay defender Sebastian Coates spoke movingly about mental health: the pressures of top-level football, the suicide of a teammate last year, and the importance of sharing our feelings.


Australia midfielder Jackson Irvine talked with conviction about promoting LGBTQIA+ rights in football and asks for clear messages about inclusivity to come out of the World Cup in Qatar.


Canada midfielder Mark-Anthony Kaye reflected on the horrific racial abuse he received online after being sent off in a World Cup qualifier and how to tackle hate speech on social media.
Olympian swaps GPC for FIFPRO head office role
Isabella Echeverri announced her retirement in February 2023 after an inspiring career that saw the defender compete at the Women's World Cup, Olympic Games, and represent clubs such as Sevilla and Monterrey.
The Colombian has been one of the leading figures in South American women's football over the last decade, not only because of the importance of her great sporting career, but also for her strong commitment to defending the rights of women's footballers.
Six months after retiring from football and thus stepping down as a member of the Global Player Council, the 26-year-old made the move to Amsterdam, Netherlands to become FIFPRO's Union & Player Relations Coordinator.
Speaking in June 2023, she said: "As a player, it was like being on the other side. I always found it fascinating and I said to myself that at some point in my career I wanted to work at FIFPRO. I feel I can be an asset to the organisation, and can be helped a great deal to create all the changes I've dreamed of and fought for during my career."
Engagement and dialogue
Though located in different continents, members of the Global Player Council have assembled at various events for face-to-face dialogue over the last year.
Gatherings such as MLS and NWSL players meeting in Los Angeles, internationals meeting for the Women's Football Summit, and individual player visits to FIFPRO's head office have encouraged conversation on a range of global player issues.
Council members such as Maya Yoshida and Jackson Irvine have also since become presidents of their respective national player associations.
"It is a position that comes with great opportunity and responsibility," said Jackson of his PFA Australia role. "In representing the interests of over 700 professional footballers, my aim is to ensure every one of their voices is heard and respected and forms part of the game's policymaking and decision-making."